We want to make you aware of an annual business filing scam that is surfacing again this year. If you have received an official-looking notice for registration titled, "ANNUAL REGISTRATION INSTRUCTION FORM," do not respond. This scam is perpetrated by Workplace Compliance Services, and they seek to charge you well above and beyond your filing fee, with no real assurance that they will follow through with your registration.  In the middle of the page you can see the following language:
"WORKPLACE COMPLIANCE SERVICES IS NOT A GOVERNMENT AGENCY AND DOES NOT HAVE A CONTRACT WITH ANY GOVERNMENTAL AGENCY TO PROVIDE THIS SERVICE."
Workplace Compliance Services is an assumed name and this name is not registered as a business with the Secretary of State. They have been running this scam for several years in various states, and they have an "F" rating with the Better Business Bureau, with several alerts besides. Here is an example of a scam they are running in Colorado, but the form looks almost identical for Georgia: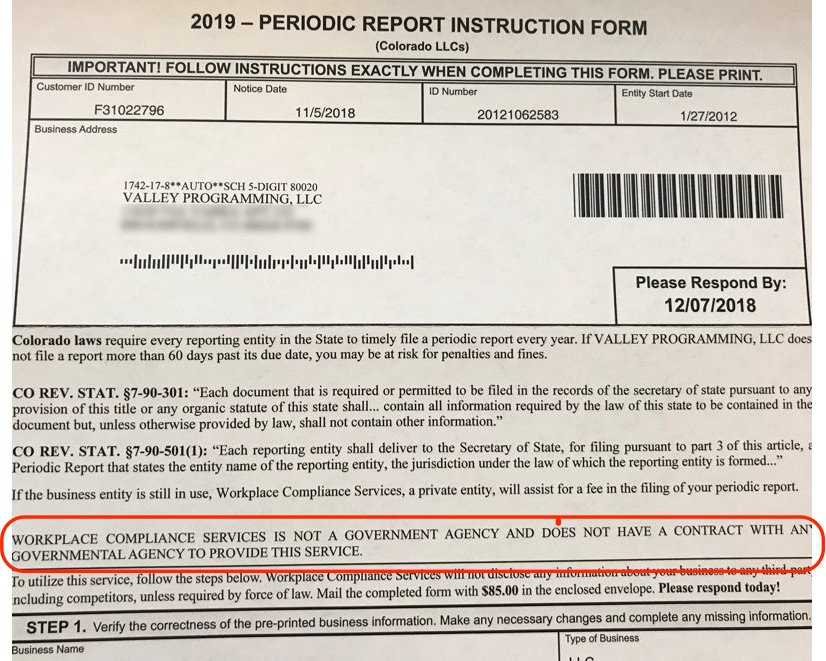 As a general rule, only give this kind of information to those whom you have initiated contact with, not the other way around. If you need to file your annual registration, you can follow this link from the Georgia Secretary of State website; this is their online filing page and everything you need should be here.
Let us know if you have any questions, and stay alert!
-Heritage Accounting and Tax Services
<><